The Voice.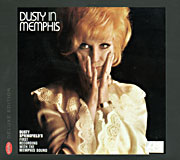 Dusty in Memphis (1969, Rhino re-issue 1999)
by Chris Vreeland
(This review is adapted from one of my posts to Chalkhills, the XTC mailing list, hence the references.)
There are those songs, right? You know the kind I'm talking about... If you're a musically inclined sort, you've no doubt got a few of them that belong to you in a certain way. Maybe a half dozen, or maybe ten, really, really magical ones. They'll always evoke the moment they revealed themselves, like when you had to pull over to the side of the road and just... listen... the first time you heard it, and then it haunted you for days until you brought it home, those are the kinds of songs I'm talking about.

I've got a short list of songs that really nailed me, just sat me down and made me mutter "wow." They only come along once every few years, and they're always little jewels that I treasure like gifts from the ethers. I have a lot of favorites, but many, maybe most, of those grew on me with time, like XTC's Easter Theater, or Something, by The Beatles. Some of them were just always there, like A Day in the Life. But there's those few... Thomas Dolby's One of our Submarines sticks out,-- had a car-parking moment with that one, and Kevin Gilbert's Goodness Gracious, (northbound on TX. 79 towards Tyler) I had another one of those moments recently, courtesy of Dusty Springfield.

My alarm clock is set to a tolerable, though not fantastic radio station here, KGSR, to go off at exactly 6 A.M. The morning DJ usually lists prominent birthdays right after 6, and might play a musical selection by an artist who's having a birthday shortly thereafter. April 16, however, he skipped the rattling off of the list and just played a song. My alarm clock literally turned on at the exact moment of the first note of Dusty Springfield's Windmills of Your Mind:

(strings and voice)

Round...
Like a circle in a spiral
Like a wheel within a wheel
Never ending or beginning
On an ever-spinning reel
Like a snowball down a mountain
Or a carnival balloon
Like a carousel that's turning
Running rings around the moon...

That was it-- I was hooked. And the "Girl from Ipanima" style guitar part hadn't even started. By the time the shaker came in at the third verse, I was levitating. And as an added bonus, it has a metaphorical cave reference, something that always perks my ear up:

Like a tunnel that you follow
To a tunnel of its own
Down a hollow to a cavern
Where the sun has never shown...

and finishes:

Like a circle in a spiral
Like a wheel within a wheel
Never ending or beginning
On an ever-spinning reel
As the images unwind
Like the circles that you find
In the windmills of your mind

Turgid, I know. Turgid, but beautiful. and Oh, the voice, the Voice, the VOICE.

What a voice. Dusty Springfield was one of dozens of girl singers who's slow slide into obscurity began with the Beatles, and the British invasion. Her music verges on the edge of lounge in some places, and you can see why by 1968, it just wasn't hip anymore. I know in most cases, it's only possible to enjoy lounge music when it's filtered through the sort of smirking irony that's reserved for Star Trek and That Girl, when we profess to enjoy such things at all, but this song transcends.

It transcends because of The Voice. Springfield had a gift like few others. She could wail on the high notes as well as any of the best wailers, ala Aretha Franklin, but her signature was more of an earthy, breathy, blatantly sexy low register, for which I can't think of any obvious equivalents. It's simply unique. She also possessed a mastery of her material that's rare. Her pitch control is one thing (It's f*ing perfect) but what I'm speaking of is her intuitive ability to feel the lyrics and delver them on a perfect emotional level. Feel is everything in good music, and Dusty had feel.

Windmills ran through my brain for a week, until I finally succumbed to the urge and visited my LOCAL, INDEPENDENT music retailer, and bought the Rhino reissue of Dusty in Memphis, originally produced by Jerry Wexler.

I realize that I risk exposing myself as a Philistine by even admitting my ignorance of this album up until this point, but my one eye has now seen the light. Some of the bonus tracks were left off the original for the usual good reasons, but over all, this is a phenomenal piece of work, which to my delight actually evokes a lot of the "orchoustic" concepts that I find so enticing about XTC's Apple Venus vol. I, albeit, in a schmaltzier, Bacharach sort of way. Not that that's a bad thing, as one of his songs appears here. There's two Randy Newman compositions as well, and a Carol King song, and altogether, the writing is exceptionally strong for a "girl singer" collection of tunes.
I'm not an expert on the sixties Motown or Memphis sounds, so I'm not really qualified to comment on how well Wexler captured the Memphis sound, though by my ear, all the session players were obviously world class. A high-water mark would be the Bass playing towards the end of the album's one hit, Son of a Preacher Man. There's a little bit of a blues and funk feel here and there, but it's pretty restrained, and the only criticism I could offer on the original production is that it might have been a bit heavy on the strings. The string arrangements are all first rate though, and add without burying things, like they are wont to do on a Tom Jones or Neil Diamond recording of the same vintage. I'm not sure of the condition of the master tapes when Rhino set about remastering in 1999, but sonically, though it's very even, and well balanced, things seem "soft." There's a good bit of hiss, but not to the point of distraction, and I think any noise reduction attempts would have killed what high end the tapes had left. It's a pretty fair remaster of what was probably a fairly good recording for its day.